---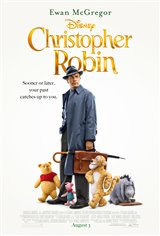 Synopsis
A young Christopher Robin has a going away party in the Hundred Acre Wood to say goodbye to his stuffed animal friends – Winnie-the-Pooh, Tigger, Piglet, Rabbit, Roo, Kanga, Eeyore and Owl. He promises them all he will never forget them as he heads off for boarding school, but as an adult, Christopher Robin (
Ewan McGregor
) is much too busy to think about his friends. In fact, he barely has time to think about his wife Evelyn (
Hayley Atwell
) or daughter Madeline (
Bronte Carmichael
), because he's far too busy at work.
The luggage company he works for is facing severe cutbacks, so Christopher Robin has to work on the weekend instead of going to the cottage with his family as he promised, in an effort to save his co-workers' jobs and help get the company successful again. 
Meanwhile, Winnie-the-Pooh can't find any of his friends. He searches Christopher Robin out in a park and appeals to him for help. Although he's consumed by his work, Christopher still has a soft spot in his heart for Pooh and eventually agrees to help. He takes the bear by train back to the Hundred Acre Wood again, but finds it dark and gloomy and not at all as he remembers it.